The Reloop Mixtour DJ controller is a compact and rugged multi-platform controller that uses Algoriddim's DJAY2 software to be used in conjunction with iOS/Android devices or a laptop.
Travel Light, DJ Hard, and NEVER Run out of Tracks
Reloop's Mixtour delivers the control you need when you DJ on the go with algoriddim djay Pro. With Mixtour and djay Pro in your rig, you effectively have total hands-on control over 20,000 tracks, thanks to complete Spotify integration. That hands-on control includes two decks' worth of mixer, EQ, browsing, effects, and transport functions and more. Toss it in your bag with your iPad or iPhone (or any computer) and hit the road. You don't even need an audio interface since there's one built right into the Mixtour.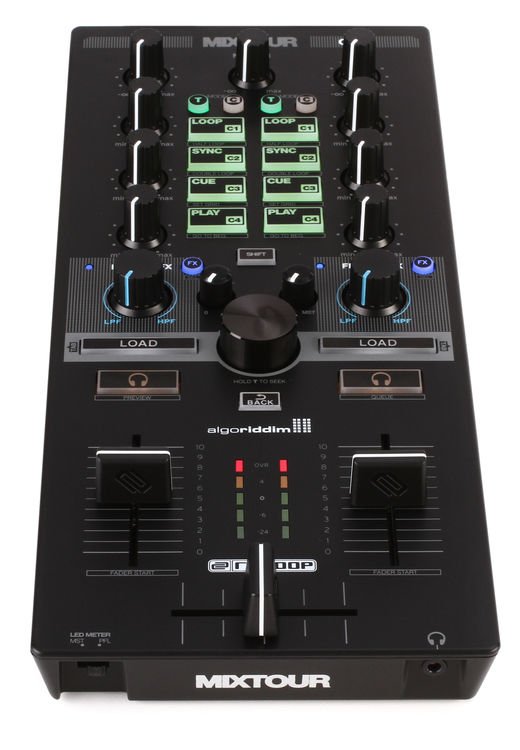 Compact design with comprehensive controls
A quick glance at the Mixtour might convince you that there's not much to this controller — it looks a bit like a typical DJ mixer after all — so it's easy to write it off as just a simple EQ and fader setup. Take a closer look, and you'll see those eight buttons in the middle. Those buttons function like the pads on a full-sized DJ controller, allowing you to access transport, cue, sync, loop, and many other critical playback functions.
Perfect integration with djay 2/Pro
Many of the DJs have adopted algoriddim djay for our run-and-gun rigs. The Mixtour kicks up a notch by integrating perfectly with this amazing app, delivering a total hands-on DJing experience. If you aren't already familiar with djay 2 or djay Pro, you're in for a treat. It's possibly the most flexible DJ app on any mobile platform. What's more, thanks to its integration with Spotify, any Spotify Premium members can directly load tracks from their favorite streaming service. Not only will you NEVER run out of music again, you'll always be able to find that track you really want to spin.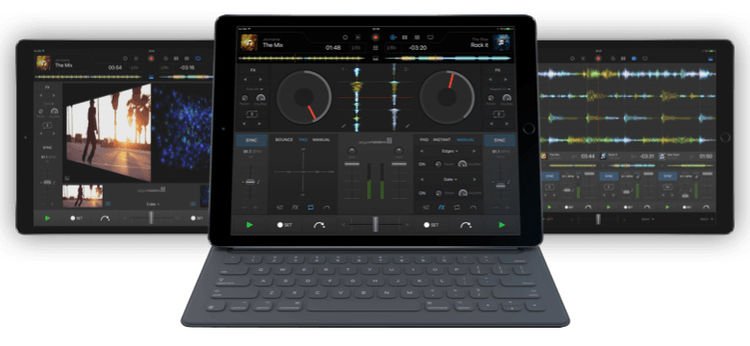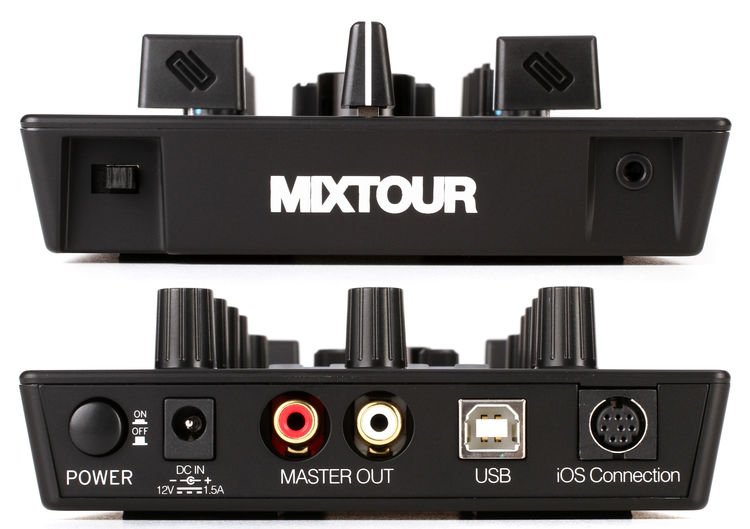 Leave your audio interface at home
It might not seem like a big deal, but when you gig out with your Mixtour, you'll never need to bother packing an audio interface. That's because Reloop dropped a minimalist yet excellent sound card into the Mixtour. It has exactly what you need: a pair of RCA outs and a headphone out for cuing. Simple, easy, and super useful.
Reloop Mixtour Mobile DJ Controller Features:
Mobile DJ controller for iOS, Android, Mac, and Windows PC DJ applications
Designed and laid out with algoriddim's djay 2/Pro app in mind
Full 2-deck control includes faders, crossfader, EQ knobs, and more
8 multipurpose pads provide looping, cueing, and transport control
Dual EX mode lets you control effects and channel filters simultaneously
Integrated audio interface includes separate RCA and 1/8″ stereo outputs
Supplies power to your iOS device while performing
Includes Lightning cable, OTG Adapter cable, USB cable, and power supply
Tech Specs
Controller Style:

DJ Controller with Master out

Number of Decks:

2-deck

Channels:

2-channel mixer, 4-channel interface (USB)

Faders:

2 x Volume

Crossfader:

Standard

Pads:

8 Multi-color Performance Pads

Outputs:

1 x Dual RCA Stereo

USB:

1 x Type B (includes Android OTG adapter cable)

Headphones:

1 x 1/8″

Data I/O:

1 x Multi-pin iOS jack

Software:

DJay 2 (iOS, Android)

Compatibility:

DJay Pro

OS Requirements – Mac:

OS X 10.9 or later, iOS 7 or later, iPad Air or later, iPhone 5 or later (lightning connection)

OS Requirements – PC:

Windows 8 or later, Android 5.0 or later

Power Supply:

12V DC power supply / USB bus powered (some modes like iOS require AC adapter)
To know more please contact us